Bob Cornwell gives his review of Dead Ringer for CrimeTime.
"When I first met my double, I was disappointed how little she looked like me."
So thinks Ella Mosier, 24, a native of Walney Island, close by Barrow-in-Furness, Cumbria as she meets Jemima Coottes-Mitchell, 25,  London for the first time. Both have been intrigued by the claims of the hot new app MeetYourDouble which utilises the latest facial recognition technology to find that match that you have perhaps (and who hasn't?) wondered was out there somewhere. Yes, it's a doppelganger story, a recurring theme in crime fiction ever since Edgar Allan Poe's William Wilson (1839), albeit this time with a (fictional) technological basis.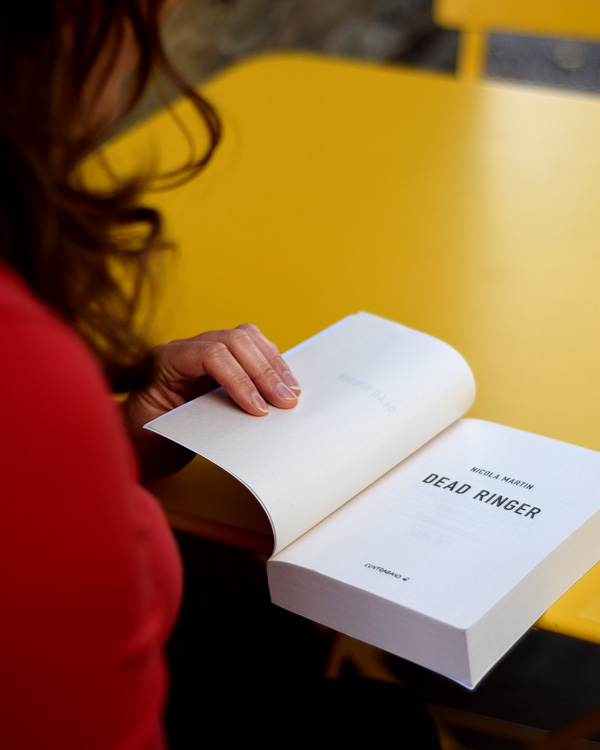 The story is told by the two beautifully characterised leads, equally in terms of chapters at first, later tending towards Ella, with an occasional update on the commercial progress (and setbacks) of the MYD app. Ella first notes her similarities to Jem (eg pale skin, elfin features, the same angular face) then their differences (eg her own jeans and faded jumper, Jem's beaded top, ultra-short leather skirt, spike-heeled boots resulting in a four-to-five inch height difference). And, adds Jem's male companion Katsu, the lack of "the same mad gleam in her eye". Soon becoming reluctant to pursue her intended adventure, Ella then steels herself and is swept off, Oyster Card kindly provided by Katsu, in pursuit of a specific dark roast coffee in Chelsea.
"Little mouse" is Jem's first recorded impression of Ella. But before long, as Jem realises the PR effect their joint appearance will cause at the career-crucial party she has scheduled for the evening, Ella becomes "Twinnie" or "Little Sis". Jem is looking to boost her stalling career as an actress by cosying up (wrong word: Jem can't do cosy) to a fashionable film director at a launch party for SYN, a bright blue drink for the in-crowd; idiots will buy anything, says Jem. The night is a hedonistic disaster. Tearing herself away from Jem's stylish apartment, Ella is soon on the train home.
Back in Cumbria Ella reluctantly settles on the caravan site run by her parents, and for her minuscule trailer (but hotly contested by younger brother Simon and, in season, by tourists). She is successful in the shrinking pool of local jobs: as a chambermaid, minimum wage £6.70 an hour. Reality (a repossessed car, her drug dealer in search of debts) has similarly intruded on the privileged life of Jem. Soon, she too is heading for Cumbria. Perhaps it will be advantageous to both if they, as Jem suggests, "get the chance to climb out of our skulls and take a holiday from ourselves". But will the consequences be fulfilling – or tragic?